Michelle Trachtenberg looking cute but silly.
Paris Hilton dressed like Heidi. Plus, I'm pretty sure those braids are weaves. What is she thinking?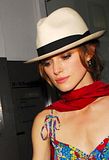 Keira Knightley looking elegant, until you click on the pic and see all the pimples. You know, there's something to be said for low image quality. And Clearisil.
Pam Anderson getting her cooties all over the lovely Dita Von Teese.